Image
Trust Our Experts To Beautify Your Nashua Lawn
Lawn Care in Nashua
In New Hampshire, the harsh winters and long summer days quickly take a toll on your lawn and the soil that supports it. Fortunately, Alliance Landscaping, a locally owned lawn care company, has been making Nashua lawns beautiful since 1999. With our unique customizable lawn care program, we can turn your turf from drab to stunning in just one season.
Hassle-Free Service You Can Count On
You can depend on us to not give you the run-around when it comes to quality lawn care and customer service. We offer next-day service, free quotes, and free inspections, because as an industry leader, we want to be your first choice for outstanding lawn and turf care solutions
Image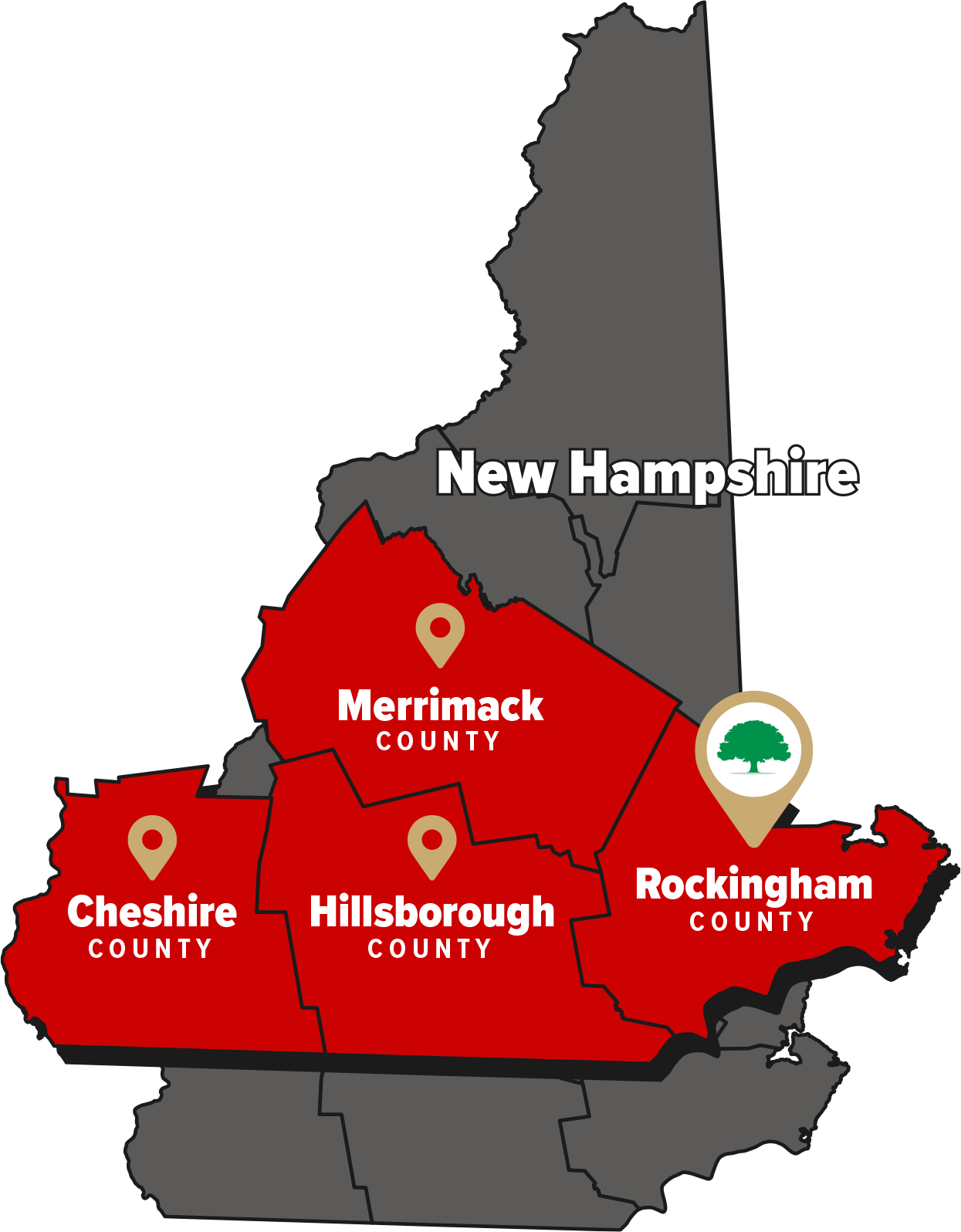 Licensed Technicians for Reliable Results
There is a reason that Alliance Landscaping is the area's premiere lawn care company. All of our lawn care technicians are licensed and undergo extensive training to ensure they know the latest industry standards, techniques, and products that will make your lawn shine. They are prepared to manage your turf with carefully selected and customized organic and EPA-approved lawn care treatments to give you the best results possible.
When you partner with Alliance for our 7-step lawn care in Nashua, we will:
Apply 6 custom lawn fertilization treatments

designed for optimal nutritional support.

Control undesirable growth

with pre- and post-emergent crabgrass control and targeted broadleaf weed control.

Include a timely grub control treatment

to stop damage from these ravenous beetle larvae before it starts.

Optimize the pH and magnesium levels of your soil

each fall to prepare for the next season.
Aeration & Seeding in Nashua
Sometimes, despite the best turf care program possible, you begin to see sparse patches of grass, bare spots, or areas of puddling water in your lawn. These are all signs of thatch buildup and soil compaction, which are easily remedied with our lawn aeration and seeding services. Removal of small cores of grass and soil will allow water and nutrients to reach the grassroots, resulting in increased growth and return to health.
As part of our aeration and seeding services in Nashua, you can expect:
An

evaluation of your property

by our experienced lawn technicians to develop a customized solution for your turf.

Core aeration

designed to loosen soil and break up thatch.

Use of overseeding or slice seeding

to expedite new growth and improve grass thickness.

Application of all-natural blown compost

to protect and nourish the newly-applied seed.

Revived turf

that is more disease-, drought-, and pest-resistant.
Mosquito and Tick Control in Nashua
When the weather turns nice in the spring and summer you can't wait to get outside – until mosquito and tick season starts. These persistent pests are enough to drive you to seek shelter indoors, since both are known to transmit dangerous diseases. Forget the DIY solutions that rarely work long-term and contact the professional mosquito and tick exterminators at Alliance Landscaping. Our customized treatments will quickly eliminate these pests, allowing you to relax peacefully in your yard all summer.
When you count on Alliance for our reliable mosquito and tick control in Nashua, you will receive:
A

complete inspection to assess your property

and where these insects are hiding.

Our

effective mosquito and tick treatments

tailored for your situation.

Professional-strength products and application methods

not available in your local hardware store to target mosquitoes and ticks at all stages of life.

A total of

6 visits for continuous mosquito and tick control

throughout the season. 
Tree and Shrub Care in Nashua
Discover the secret to vibrant and healthy trees & shrubs with Alliance Landscaping's Tree & Shrub Care Program in Nashua. Our expert team is here to provide you with the best care and maintenance for your valuable plantings. Don't wait for problems to arise – take proactive measures to protect your landscapes. Experience the benefits of our comprehensive service, including:
Free tree and shrub inspection: Our skilled professionals will assess the health and vitality of your plants, identifying any potential issues before they become major problems.
Highly-effective tree disease treatments: With our advanced techniques and cutting-edge products, we can combat tree diseases and prevent the spread of harmful pathogens. Keep your trees and shrubs in peak condition all year round.
Drought prevention: Our specialized approach helps to increase the drought tolerance of your plantings, ensuring they thrive even in challenging weather conditions. Don't let dry spells damage your valuable landscapes.
EPA approved: Our treatments are in compliance with the highest industry standards. Trust in our expertise and ensure the health and safety of your trees and shrubs.
Experience the difference our professional team can make in the health and strength of your landscapes. Don't miss out on this opportunity to enhance the beauty and value of your property. Get in touch with us today and unlock the full potential of your trees and shrubs.
Irrigation Services in Nashua
Why settle for a lackluster lawn when you can have a vibrant oasis right in your backyard? At Alliance Landscaping, we specialize in providing top-notch irrigation services in Nashua to help you achieve the lush and healthy lawn you've always dreamed of. Discover the power of our services and unlock the true potential of your landscape!
Here's what sets our irrigation service apart:
Free Inspection: Our highly-trained team will conduct a thorough inspection of your current irrigation system to identify any misaligned sprinklers, broken heads, or inadequate watering. We'll pinpoint the issues holding back your lawn's potential and provide you with a detailed assessment, free of charge.
Spring Start-Up and Fall/Winter Shut Down: We understand the importance of proper maintenance for your irrigation system's longevity. Our comprehensive services include both spring start-up and fall/winter shut down. From calibrating pressure and aligning heads to winterization, we cover every detail to ensure optimal performance year-round.
But don't just take our word for it! Our satisfied clients have experienced the incredible results of our custom irrigation solutions. Through a personalized approach, we evaluate your lawn's unique needs, including soil composition and sun-to-shade ratio, to design a watering approach that conserves water, lowers utility bills, and transforms your property.
Grub Control in Nashua
Get rid of those pesky grub infestations and prevent those unsightly brown patches on your lawn with our top-notch grub control service in Nashua. With our expertise and organic products, we guarantee highly-effective grub treatments that will leave your lawn looking lush and green.
Here's why you should choose our grub control service:
Free grub inspection: Our team of experts will assess the extent of your grub problem and provide you with a comprehensive analysis, free of charge.
Highly-effective grub treatments: We use cutting-edge techniques and organic products to effectively eliminate grubs and restore the health of your lawn.
Grub prevention: Our preventive measures will ensure that you never have to deal with another grub infestation again. Say goodbye to those brown patches!
Organic products: We care about the well-being of your lawn and the environment. That's why we only use organic products that are safe for your pets and family.
Don't let grubs take over your lawn. Take control with our professional grub treatment services. Say hello to a healthy, vibrant lawn that will be the envy of the neighborhood. Act now and experience the transformative power of our grub control in Nashua.
Weed Control in Nashua
Say goodbye to pesky weeds with our organic, EPA-approved weed treatments. Our weed removal service in Nashua is here to help you get rid of weeds and keep your lawn looking its best year-round.
Here's what sets our weed control in Nashua apart:
EPA-approved herbicides that are safe for your lawn and the environment
Ongoing monitoring to ensure your lawn stays weed-free
Year-round weed control to keep your lawn looking its best no matter the season
Bed weed control to prevent weeds from germinating and overtaking your flower beds
Pre-and-post emergent treatments to target common persistent weeds local to Nashua, NH.
Don't let weeds take over your lawn. Choose our lawn weed service in Nashua for effective weed treatment and prevention. Contact us today for a free consultation!