Image
Partner with Local Lawn Care Experts in Manchester, NH
Lawn Care in Manchester
Known as the queen city due to its large population, the City of Manchester is a bustling metropolis that offers both locals and guests approximately 2,000 acres of green acreage for outdoor adventure and playtime. It is these green spaces that make Manchester so special. And here at Alliance Landscaping, we believe you should be able to enjoy that type of vibrant, healthy lawn in your own backyard. That's why we offer a variety of lawn care services performed by our knowledgeable and certified lawn care experts including:
Lawn Care Programs
Tick and Insect Control
Lawn Aeration & Seeding
Irrigation Services
Tree & Shrub Care
Commercial Landscaping & Snow Removal
Image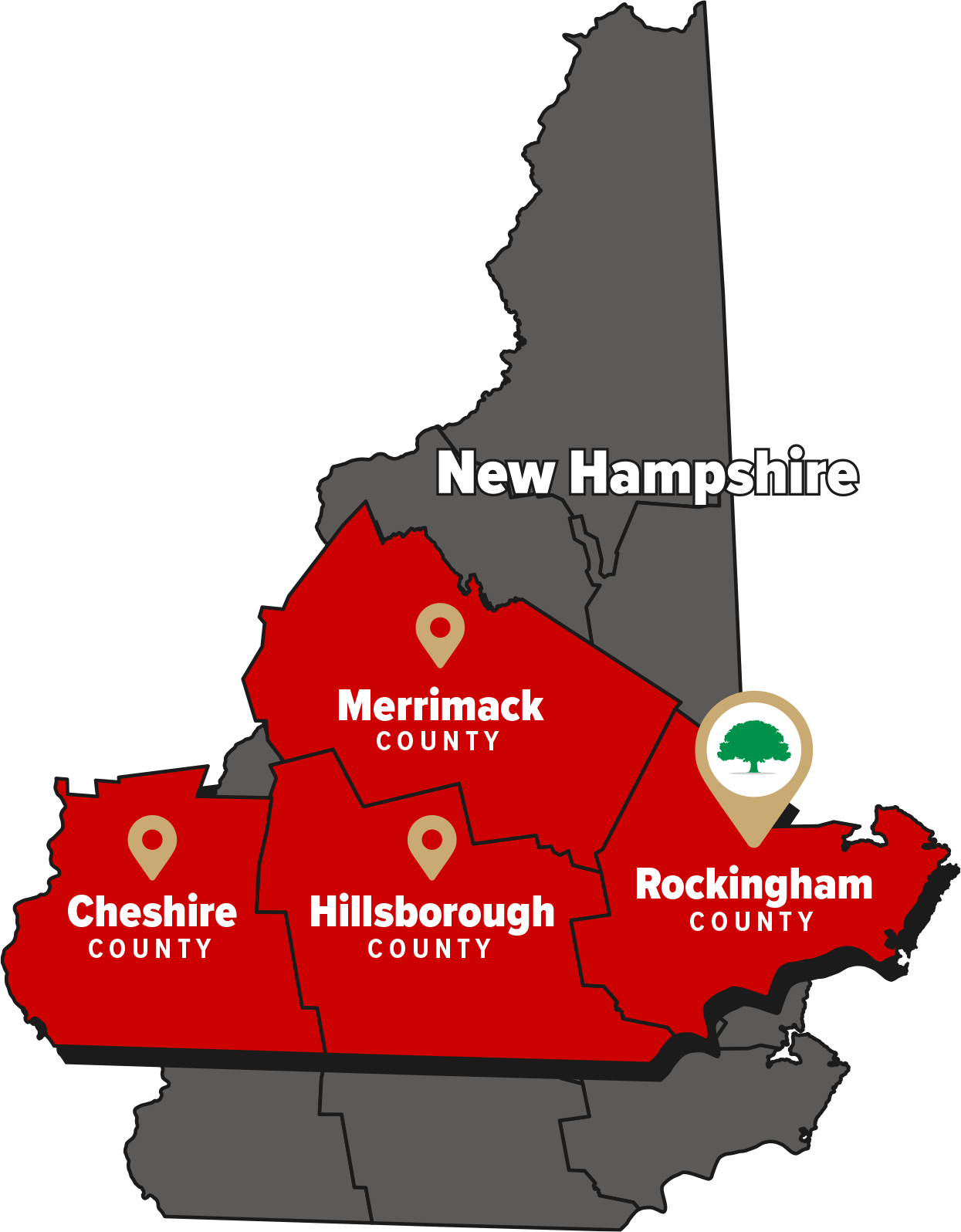 Aeration and Seeding in Manchester
One of the most essential lawn care services we offer is aeration. Normal wear and tear caused by foot traffic, lawnmowers, and climate stressors can create compacted soil, stopping critical nutrients, oxygen, sunlight, and water from getting to your root system. When this happens, your turf needs the professional aeration and seeding services of Alliance Landscaping. Our skilled lawn care experts use only the latest aeration equipment to penetrate compacted soil. Lawn aeration helps oxygen, water, and vital nutrients reach the depths of your soil. But the benefits don't stop there.
Other advantages of our aeration services in Manchester include:
Thicker, healthier turf
Stronger, more durable roots
A decreased risk of disease or insects
Reduced water runoff
For an even healthier turf, we recommend following up our aeration process with overseeding. Alliance Landscape's overseeding process involves introducing disease and insect-resistant turf grasses throughout the highly affected areas of your yard. It can quickly fill in bare spots and assist in healing your lawn. For a healthier, more vibrant turf, call the lawn care experts of Manchester today!
Weed Control in Manchester
Get rid of those persistent weeds once and for all with our top-notch weed removal service in Manchester! Our lawn weed service is designed to provide year-round weed control, with ongoing monitoring to ensure unwanted plants never return. Here's what you can expect from our EPA-approved weed treatments:
Pre-emergent herbicides to prevent weeds from germinating
Targeted broadleaf weed control to eliminate persistent weeds
Post-emergent crabgrass treatment to keep your lawn looking pristine
Bed weed control for a complete solution
At our weed control in Manchester, we know the common stubborn weeds in the area, such as dandelions and clover, and we use only the most effective lawn spraying techniques to keep them at bay. With our expert weed treatment, your lawn will have the room it needs to thrive, without any pesky interlopers stealing vital nutrients.
Trust us to provide the highest quality EPA-approved herbicides so that you can enjoy a weed-free lawn all year round. Don't wait until it's too late – call us now for a free consultation and find out how our pre-and-post emergent weed control can transform your property.
Tree and Shrub Care in Manchester
Transform your landscape into a lush paradise with Alliance Landscaping's expert tree and shrub control in Manchester. Trust us to take care of your plantings with our comprehensive tree care service. Here's what our 7-Step Tree & Shrub Care Program offers:
A free tree and shrub inspection to identify any problems before they escalate
Highly-effective tree disease treatments that protect and strengthen your trees and shrubs
Drought prevention that keeps your plants healthy and beautiful all year long
Organic products that promote growth and prevent infestations without damaging the environment
EPA-approved fungicide treatment that ensures the health and longevity of your plants
Don't wait until a problem arises to take care of your landscape. Let Alliance Landscaping's tree and shrub care service keep your property vibrant and thriving. Our proven techniques will give you the peace of mind that your outdoor space is getting the attention it deserves. Call us now to schedule your free inspection!
Grub Control in Manchester
Are brown patches ruining your lawn? Don't wait for the problem to escalate. Take action with our top-notch grub control service in Manchester.
Here's what we offer:
Free grub inspection to assess the extent of the damage
Highly-effective grub treatments to get rid of pesky grubs
Grub prevention to keep your lawn healthy and green
Organic products that are safe for your family and the environment
Don't let grubs take over your lawn. Our grub control for lawns is the solution you need. Trust us to deliver exceptional grub treatment that leaves your lawn lush and beautiful. Act fast and prevent further damage to your lawn with our grub control service.
Irrigation Services in Manchester
Are you tired of dealing with wilted grass and wasted water? Look no further than Alliance Landscaping for the ultimate sprinkler service. Our highly-trained team offers a comprehensive suite of irrigation services to homeowners and businesses throughout Manchester and beyond.
Here's what we can do for you:
Free Inspection: We'll evaluate your property and design a customized irrigation plan that suits your lawn's unique needs.
Spring Start-Up: We'll get your system up and running for the season, ensuring that your lawn receives the optimal amount of moisture.
Fall/Winter Shut Down: Our professionals will winterize your system to protect it from freeze damage and ensure its longevity.
Periodic Maintenance: Uneven coverage and broken sprinkler heads can happen. But with our services, you can rest assured that your irrigation system is always running at maximum capacity.
At Alliance Landscaping, our irrigation services for lawns go beyond simply watering the grass. We believe in creating sustainable, long-term results that strengthen soil and roots. Plus, our solutions can even save you money on utility bills.
Mosquito and Tick Control in Manchester
Don't get stuck indoors throughout the warm season due to ticks and other pesky insects. Fight back with Alliance Landscaping's tick control and insect control. Ticks can pose serious health risks to us and our pets. Lawn insects such as chinch bugs and billbugs can destroy an entire section of your backyard in no time. We offer perimeter tick control services as well as a full-coverage insect control program that targets ticks, fleas, ants, and other lawn pests. Our award-winning lawn and landscaping services can be customized for your individual lawn care needs.