Image
Looking For A Lawn Care Expert in Londonderry, NH?
Lawn Care in Londonderry, NH
Londonderry showcases some of the best outdoor scenery that New Hampshire has to offer. There's no shortage of opportunities to explore the area's mountains, parks, and conservation areas. When you don't have the chance to adventure, a well-kept yard gives you the chance to enjoy a personal nature retreat without leaving home.
Complete Lawn Services
At Alliance Landscaping, we've spent over 20 years giving our New Hampshire neighbors lawns that they love. Our lawn and turf care solutions are customized to your property to help you realize your vision for your outdoor space. 
Thanks to our decades of experience, we're extremely familiar with conditions that affect lawn care in Londonderry, such as weather patterns, soil composition, and the best time frames for treatment to give you the best results. Our comprehensive seven-step program runs from April to November and includes:
Slow-release fertilizer to nourish grass all year long.
Pre-emergent weed control targeting crabgrass and broadleaf.
Post-emergent weed control for maximum coverage.
Promoting root growth in the fall for enhanced seasonal strength.
Soil enhancement applications to raise pH and magnesium.
Grub control that proactively eliminates grubs.
We also offer organic options upon request. Call today for lawn care that lasts year-round, even in the unpredictable conditions in New Hampshire.
Image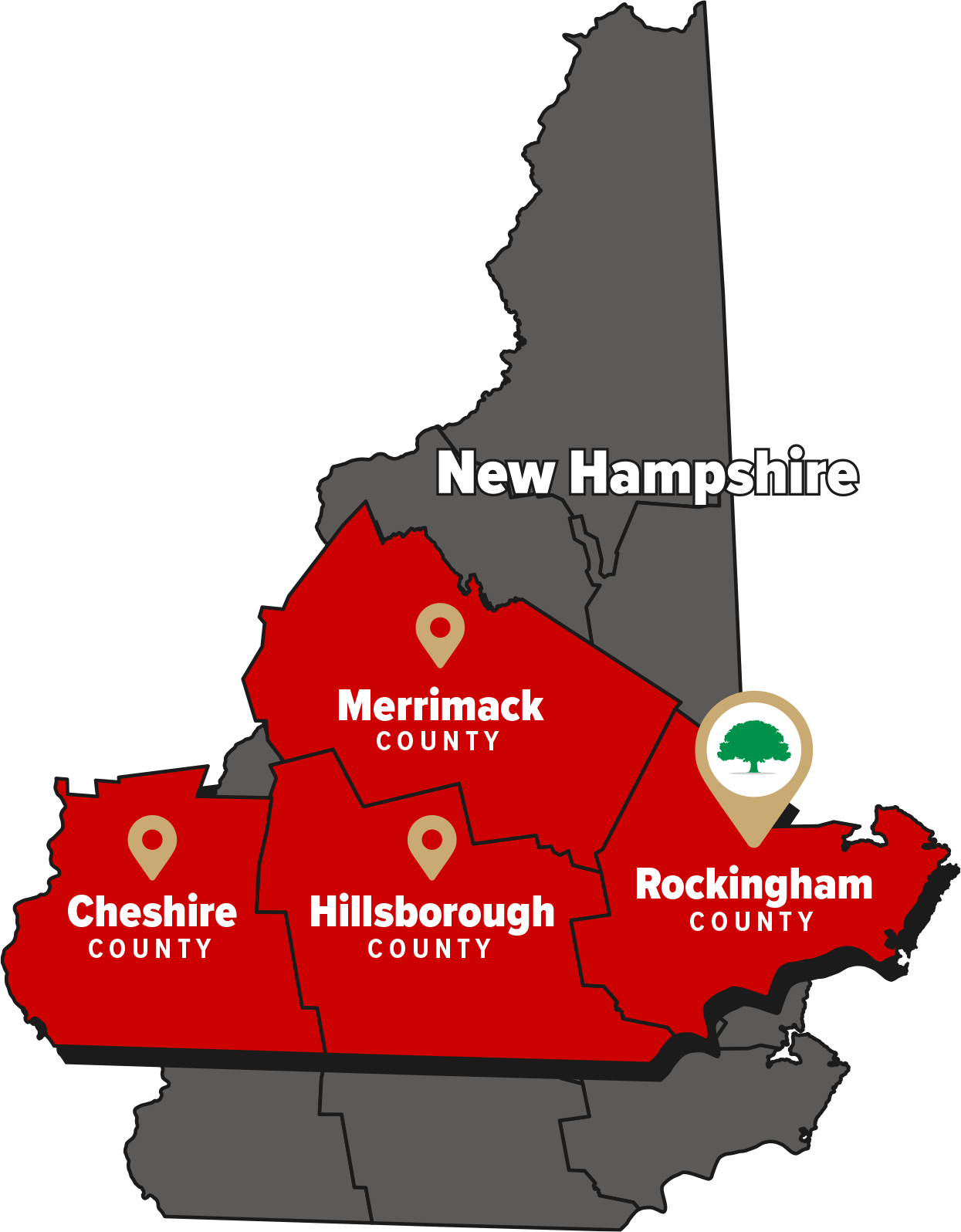 Aeration and Seeding in Londonderry, NH
Whether your lawn sees traffic from feet, paws, or tires, the soil gets compacted over time. Soil compaction stresses your grass by suffocating the roots and keeps air, water, and nutrients from penetrating the surface. If you're noticing thatch build up or worn-away paths, it's time to call our team at Alliance for aeration and seeding in Londonderry.
When you trust us with aeration and seeding, we won't just use a one-size-fits all routine. We'll develop a custom aeration and seeding solution for your lawn based on our extensive services including:
A lawn evaluation by a trained technician to pinpoint problem areas.
Core aeration performed with the very best in equipment.
Overseeding to introduce disease fighting and pest-resistant growth.
Slice seeding for bare areas that need direct seed-to-soil contact.
All-natural compost blowing in the fall for a nutrient boost.
Weed Control in Londonderry, NH
Weeds are never a welcome sight on your lawn, whether you've tried to tackle them yourself or have given up entirely on attempting to get rid of them. We know that weeds are more than just a nuisance; they threaten entire root systems by hogging water and essential nutrients from grass and garden plants. 
At Alliance, our weed control options in Londonderry are customized to your preference. If you're looking for complete weed control year-round that supports a healthy lawn, our full-service lawn care program integrates both pre and post-emergent control for Londonderry's most common weeds. 
If you choose to fertilize your own lawn, we can still help with targeted weed control treatments that eliminate weeds without damaging your grass or garden. We even offer weed control service for ornamental beds so that unsightly weeds don't cramp the curb appeal of your home or business. 
Tree & Shrub Care in Londonderry, NH
Whether your ornamentals are your pride and joy or you just want the peace of mind that your trees and shrubs stay healthy, our Alliance Landscaping team can craft a strategy that fits your needs. 
Our tree and shrub care program is a seven step approach for disease prevention and regular maintenance. Our goal with all our tree and shrub services in Londonderry is to increase drought tolerance, fight disease, and keep your large plantings thriving all year round. 
For more information on our extensive menu of services for your trees and shrubs, call Alliance and we'll help you formulate a winning ornamental care strategy.
Mosquito and Tick Control Control in Londonderry, NH
Spring and summer are great times in New Hampshire as Londonderry residents can emerge from their homes after winter. However, with warmer weather comes the increased risk of mosquitoes, ticks, and other surface insects that destroy your lawn and bite and irritate people and pets. 
At Alliance Landscaping, we use mosquito and tick control treatments that don't just reduce population, but eliminate adult insects and keep them from coming back. When you call us to protect your lawn, you can count on:
Professional technicians that receive up-to-date training.
A no-risk property consultation to assess your pest control needs.
A customized treatment plan to target all stages of the mosquito and tick life cycle.
Full-coverage insect treatment for fleas, ants, chinch bugs, billbugs, and more.
Price bundling options with our 7-step lawn care program. 
Give us a call to take your yard back from ticks and get back to enjoying the outdoors.
Irrigation Services in Londonderry, NH
It's easy to overlook the role of an irrigation system in adequate lawn care, but irrigation is just as important as fertilization and maintenance. At the same time, there's a lot that can go wrong within a sprinkler system. Something as simple as misaligned heads and solenoids can cost a fortune in time, water, and expense. 
At Alliance, our irrigation services in Londonderry provide comprehensive care to keep your sprinklers in shape all year long. Our irrigation program includes:
Designing a watering approach specific to your lawn's soil types and sun-shade ratio.
Spring startup that puts every system detail in place for warmer weather.
Fall/Winter shutdown that winterizes sprinklers from head to rotor.
Maintenance services that pinpoint and repair problems as quickly as possible.
Integration with our lawn care program for long-term, sustainable results. 
Grub Control in Londonberry, NH
Get your lawn back to green with our highly effective grub control service in Londonberry. Our expert team knows exactly how to tackle grub infestations head-on. With our targeted grub treatments, we'll eradicate these damaging pests, ensuring your lawn remains lush and green. Our service includes:
Free grub inspection: Concerned about those unsightly brown patches on your lawn? Let us put your mind at ease with a complimentary grub inspection! Our team of experts will thoroughly assess your lawn for any signs of grub infestation.
Highly-effective grub treatments: If we find any evidence of grubs, our highly effective grub treatments are here to save the day! Using state-of-the-art techniques and organic products, we'll eliminate those pesky grubs and restore your lawn's health and beauty.
Organic products: We prioritize the health and well-being of your lawn, which is why our grub control service in Londonberry exclusively relies on organic products. These safe and eco-friendly solutions effectively combat grubs without harming the environment or the health of your family and pets.
Customized Service Solutions
At Alliance, we know that home and business owners deserve more than cookie-cutter lawn care. Every single one of our extensive service options is customizable based on your needs and hopes for your outdoor space. And for over 20 years, we've fulfilled our mission to give New Hampshire residents yards that they can be proud of. 
We're dedicated to providing excellent service, including the best training for our technicians. Each of our licensed landscapers receives state-of-the-art training that equips them for any challenges that come their way. 
Your satisfaction is the most important part of the lawn care process. If you're ever unhappy with our service, we'll conduct an evaluation to solve the problem and we'll reapply as necessary.