Image
Get Reliable Lawn Care in Bedford NH
Lawn Care in Bedford
The people of Bedford have their choice of green spaces that offer nearby getaways every day of the week. From bountiful sports fields and parks to distinguished favorites like the Bedford Heritage trail, you can tell the community loves its outdoors.
Since 1999, our goal at Alliance Landscaping has been to make your yard an outdoor retreat by providing professional lawn care services that transform your residential or commercial property into your favorite Bedford green space.
Our Lawn Care Solutions
Navigating lawn care services from one company's expertise to another is a trip that quickly gets overwhelming. That's why we offer a suite of customizable services to cover all of your landscaping needs, and then some:
Alliance Landscaping proudly offers a diverse range of lawn care services, including:
7-Step Fertilization Program
Tick and Insect Control
Aeration & Seeding
Irrigation Services
Tree & Shrub Care
Weed Control
Soil Enhancement
Fungicide Applications
Our staff includes lawn care experts, skilled landscapers, irrigation professionals, and trained pest control technicians who strive to deliver excellent customer service and results. Let us know what we can do to transform your yard into your sanctuary.
Image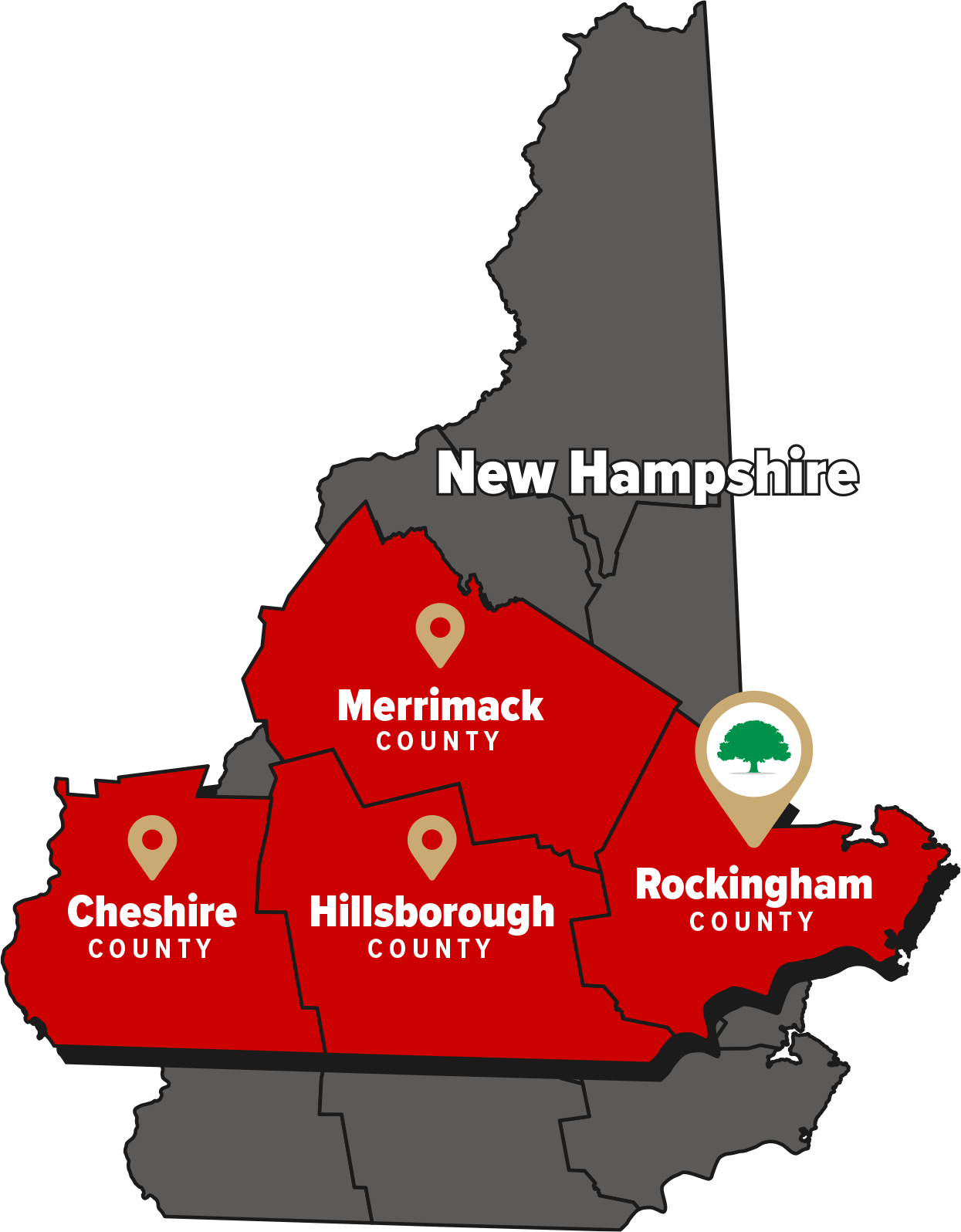 Our Comprehensive 7-Step Lawn Care Program
Several factors stand between you and having a gorgeous lawn year-round: weather, soil composition, dehydration, leaf disease, insects—the list goes on.
Decades of experience with Bedford's weather and unique growing conditions have given us the expertise to develop our 7-step Lawn Care Program that keeps your lawn in stunning shape year-round.
Our 7-step Lawn Care Program includes:
Thorough property evaluation
Pre- and post-emergent weed control to fight crabgrass and broadleaf weeds
Grub control
Treatments are strategically applied by a lawn care expert in Hillsborough County to harmonize with weather patterns, so you can be confident our careful timing will deliver the best results!
Aeration and Seeding in Bedford, NH
If your property is patchy, has dead spots, or pooling water, our lawn aeration and seeding service is here to offer a solution. This damage-reversing process uses a lawn aerator to reduce soil compaction and thatch that keep your grassroots from receiving critical oxygen, water, and nutrients.
Benefits of Lawn Aeration and Seeding:
Replenishes lawn health.
Ensures grass and soil receive nutrients from lawn fertilization.
Minimizes risk of lawn disease.
Makes your lawn more resilient by increasing its overall health.
To quickly replenish dead spots with lush, vibrant grass, we follow aeration with lawn seeding. By immediately planting new grass seed into the holes from aeration, it's able to mix with your current grass and promote faster growth.
Lawn Seeding Services:
Overseeding.
Slice seeding.
Compost blowing.
Customized aeration and seeding programs.
Mosquito and Tick Control in Bedford
Bedford's outdoor spaces are captivating. We at Alliance Landscaping find it unacceptable for you to be trapped inside because of mosquitoes, ticks, and other needs for insect control. Our mosquito and tick control programs eradicate your yard's most annoying and hazardous pests so you can get back to enjoying your outdoor space.
Pest Control Services:
Perimeter pest control.
Full coverage mosquito control.
Tick control.
We'll send a lawn care expert to evaluate your area and determine which of the latest pest control methods best solves your problem. Whether your focus is on mosquito and tick control, billbug treatment, flea extermination, or another type of insect, you can trust our trained technicians to kill the infestation and prevent repopulation.
Irrigation Services in Bedford
Don't settle for a lackluster lawn. With our professional irrigation services in Manchester, you can achieve a lush, healthy landscape that stands out from the rest.
Experience the Alliance Landscaping Advantage:
Free inspection: Our team of highly-trained experts will assess your irrigation system's current condition and provide a personalized plan for improvement.
Sprinkler maintenance: From spring start-up to fall/winter shut down, we handle every aspect of your sprinkler system's care, ensuring optimal performance year-round.
Customized irrigation solutions: Our specialists evaluate your lawn's specific needs, designing a watering approach that conserves water, lowers utility bills, and transforms your property.
Reliable and efficient: With our experienced team and attention to detail, you can trust that your irrigation system will operate at maximum capacity, keeping your lawn green and vibrant.
Contact Alliance Landscaping today for a free inspection and take the first step towards a beautifully watered lawn.
Tree and Shrub Care in Bedford
If your home or business is enhanced by trees, shrubs, and other ornamentals (or you wish it was), a professional landscaper will ensure your lawn's main attractions are taken care of. Regular tree and shrub care is easily overlooked until a problem arises, so Alliance Landscaping offers a 7-step Tree and Shrub Care Program to keep your plants turning heads all year.
Receive Ultimate Care with Our Tree and Shrub Program:
Ornamental bed and garden weed control.
Insect and disease treatment.
Soil enhancement.
Fungicide control.
Periodic inspections.
Weed Control in Bedford
Weeds are more than unattractive additions to your otherwise pristine garden beds. They greedily absorb nutrients from your other plants and flowers, attract unwanted pests, and can take over your property at an alarming rate. Knowing the despair weeds bring to your best lawn care efforts, we provide weed control services that can be applied separately or bundled with your personalized lawn care program:
Garden and ornamental bed weed control
Broadleaf weed control.
Pre- and post-emergent treatments.
Grub Control in Bedford
Are you tired of dealing with those pesky grubs ruining your lawn? Look no further! Our grub control service in Manchester has got you covered. Here's why you should choose us:
Free grub inspection: We'll come to your property and assess the situation, so you know exactly what you're dealing with.
Highly-effective grub treatments: Our experts use top-of-the-line products that are proven to get rid of grubs and restore your lawn.
Grub prevention: Don't want those pesky grubs to come back? We've got you covered with our preventative measures to keep your lawn grub-free.
Organic products: We care about the environment, so we use organic products that are safe for you, your family, and your pets.
Say goodbye to those brown patches and hello to a healthy, lush lawn. Don't let grubs control your lawn - take control with our grub control service in Manchester. Get in touch with us today and see the difference we can make for your lawn.