Upgrade The Way You Water Your Lawn This Summer
Image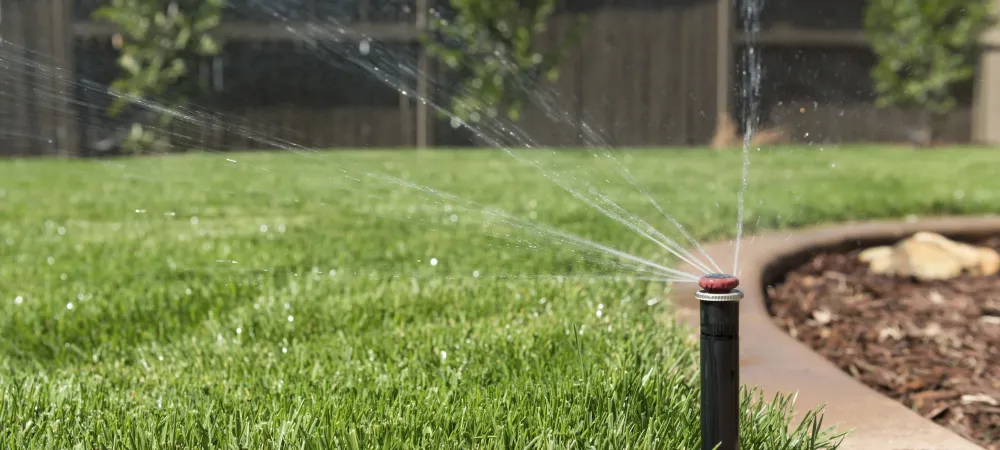 Keeping up with watering the lawn is an important part of lawn maintenance, but it can be tedious. If you water with a garden hose, that's less time you could be enjoying a hobby. If you use a sprinkler, you might forget you left it running and overwater the lawn, leading to diseases like lawn fungus. And sprinklers are imprecise, so you'll end up wasting water on sidewalks and driveways. There's a better way to manage your lawn watering schedule: an irrigation system.
The Many Perks Of An Irrigation Sprinkler System
Save On Your Water Bill
Whether you water with a garden hose and sprinkler attachment or stand there yourself with the hose, you're probably wasting water. It's so easy to forget you left the sprinkler on. And it's hard to tell how much you've watered. And then there's the fact that sprinklers will water things other than grass like the sidewalk and driveway. You may inadvertently water things like flowers that may not need as much water. With an irrigation system, the sprayers are positioned carefully, so water isn't aimed anywhere but the grass. Also, the systems have a timer so you can program it like a thermostat and adjust when you want to water based on the season. For instance, watering in the morning during summer, before the sun reaches its zenith in the afternoon, will allow the grass to absorb water before the sun has a chance to dry it up. This saves you money when it's time to pay the water bill! Plus, you won't have to worry about overwatering the lawn and inviting disease!
Work With The Rain, Not Against It
The forecast predicted rain, but it was a brief shower. Should you still water? Homeowners often have this debate in the summer when rainstorms can be unpredictable. With a lawn irrigation system, there's no need to ponder. In addition to the timing sensors, as we discussed in the last section, these sophisticated systems also have moisture sensors. If the gentle summer rain turns into a downpour, your irrigation system will know not to water for a bit.
Better Watering Without The Maintenance
Some people are hesitant to get an irrigation system because they worry about fixing issues that arise with usage. At Alliance Landscaping, we don't simply install the system and leave it at that. We handle all irrigation system repairs and check-ups.
Spring Start-up
Turn on the main water supply
Prime mainline
Evaluate zone operation
Look for leaks
Calibrate pressure for spring conditions
Program watering times for spring conditions
Align heads for the best coverage
Identify necessary repairs
Assess controller operation
Fall Shutoff
Our technicians will blow out the sprinkler heads, lines, rotors, and valves before the ground freezes. This protects the system from damage.
Garden Hoses Are Just Plain Annoying
They leak, they get kinks, they get caught on corners, gates, and landscaping, and just never seems to be enough slack to reach the spot you need to. With an irrigation system, you literally just flip a switch and forget about it. It truly doesn't get more low maintenance than that.
Irrigation Systems Add Value To Your Home
And they do it in two ways. First of all, your system is going to keep your grass looking absolutely gorgeous. This means higher curb appeal, which can affect the value of your home by as much as 14% – a huge boost if you plan to move! (And hey, if this is your forever home, it will still look good!) Secondly, having an irrigation system is a bonus if you decide to sell. You never know what is the deciding factor when a buyer chooses your home. That irrigation system could tip the scale in your favor!
Water, Water Everywhere
Irrigation isn't just for residential customers – we can install them at your commercial property as well! When it comes to running a business, there's always something that needs to be done. Why not check off "watering" from your to-do list?
You Can Upgrade
If your system is older, it may not have the rain sensor technology that has become common in the industry. You might be able to upgrade your system without replacing it entirely. Our technicians are happy to discuss your options and figure out the solution that works best for you!
Get An Irrigation System Near Manchester, New Hampshire
The professionals at Alliance Landscaping have over 20 years of experience installing residential irrigation systems. We can help any household, whether you're looking to upgrade your existing system or start with a brand-new one. We're also proud to offer custom irrigation solutions. Our experts will assess your unique needs and tailor a system accordingly. If you'd like to learn more, give us a call at (603) 704-4230 or leave us a message online. You can learn more about what we do and how to improve your yard on our monthly blog page here. You can also follow us on Instagram and like us on Facebook!