Celebrating 20 Years of Alliance Landscaping
Image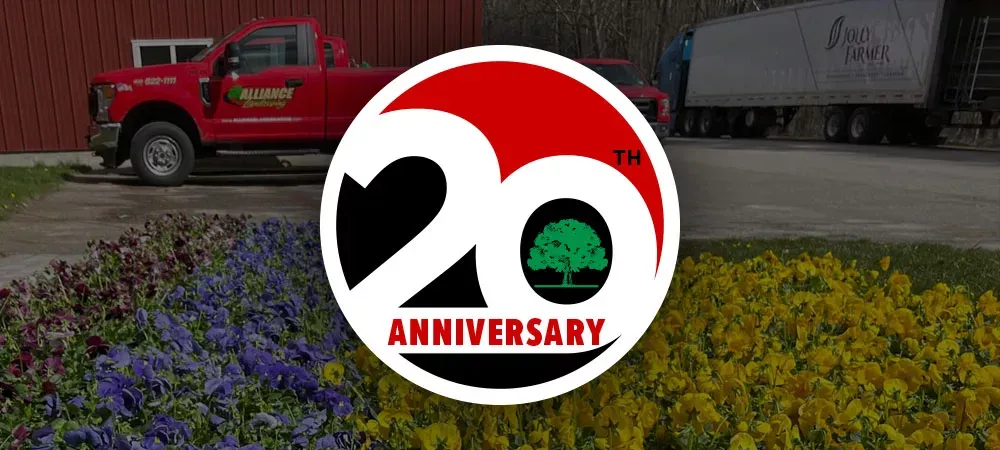 Over the past 20 years, Alliance Landscaping, with Brandin Swisher at the helm, has been making a name for itself. The past two decades have seen plenty of change. Brandin Swisher has helped transform Alliance Landscaping into what it is today. Because of his compassion, community-oriented work, and vision for the future, Swisher sets himself and Alliance Landscaping apart from the rest.
Humble Beginnings
Brandin Swisher began his journey into lawn care as a teenager. Swisher started mowing lawns around town as a summer job. In the early days, he would lug his equipment around in his own Ford LTD. Over time, this summer job grew to become much more. Swisher continued to work at it throughout college. As a result, by 1999 his business grew to include 10 employees and an increasing workload. Subsequently, he decided to devote himself to building and further growing his company.
Community-Oriented
Compassion and giving back to the community have always been important to Swisher. Over the year, Swisher and Alliance Landscaping have worked on a number of beneficial projects.
Some of the Community and Charity Work Done by Alliance Landscaping Include:
Regular donations to the Shriners Children's Hospital
Toys for Tots
Free Services for the Boy Scouts' Camp Carpenter
Home and Landscaping Renovation for Someone in Need
Sponsored Athletes in the Special Olympics
Make a Wish Patio Donation
Outdoor Classroom at the Londonderry High School
Boy and Girls Club
These community projects and charitable contributions are important to Swisher. Making sure to give back to the community is one of the cornerstones of Alliance Landscaping. Because of this compassionate, community-oriented philosophy, we're able to drive our customer service to excellence.
The Future of Alliance Landscaping
Brandin Swisher and Alliance Landscaping have come a long way from the small business with 10 employees it started as. Today, Alliance Landscaping employs 70 – 90 employees throughout the year and is approaching $6m in revenue. Because of his determination, Swisher took his dream of Alliance Landscaping from a teenage summer job to a multi-million dollar lawn care and landscaping company. After 20 years, he isn't stopping there.
Alliance Landscaping is going to continue to grow as a lawn care, plowing, and landscaping company. We will also grow our scope to include premium home pest control. For Swisher, the sky's the limit.
The Best Lawn Care and Landscaping Services From Alliance Landscaping
If you want to experience stellar services and exceptional customer service, then check out our catalog at Alliance Landscaping. Whether it's lawn care, aeration & seeding, mosquito & tick control, irrigation services, or more, Alliance Landscaping has the best options for you.
Let's get started. Call us at (603-704-4230 or contact us here. Follow our Facebook and Twitter for up-to-date deals and news from Alliance Landscaping. For the best tips and tricks from the experts, check out our blog.